Royston (Iceni) Weather Station
The incredible heat-wave of 23rd June/8th July 1976
After a hot day on 22nd June 1976 (maximum temperature 26.3°C) a remarkable heat-wave commenced in Royston during which the temperature reached or exceeded 30°C every day from 23rd June to 8th July (i.e. a consecutive 16 day period). The sequence was broken on 9th July when a temperature of 'only' 25.6°C was attained. The rest of the month remained very warm, however, and a mean daily maximum temperature for July of 25.6°C was achieved. The equivalent figure for June was 24.4°C.
Given that days with over 30°C are relatively unusual in Royston, and have occurred only in 12 years in the last 28 years (1972 to 1999), this was indeed a remarkable hot spell. It is difficult to envisage this ever occurring again, but if it has happened once then it is always possible it will be repeated, of course, however unlikely it seems. The return period for such an event must be 100 years at least.
The graph below shows the daily maximum and minimum temperatures recorded over this period.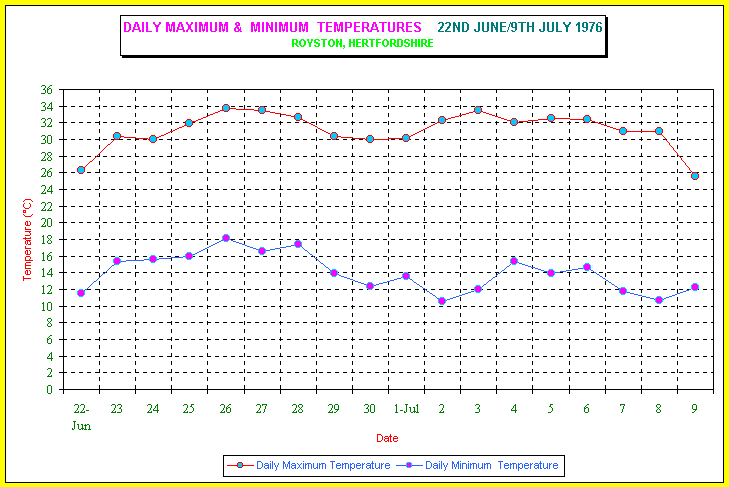 In the period 1972 to 1999 the next longest consecutive sequence of days with over 30°C occurred between 29th July and 3rd August 1995 (6 days). The only other notable periods where the temperature exceeded 30°C on consecutive days were 8th/12th August 1997 (5 days) and 1st/4th August 1990 (4 days). This latter sequence included the highest temperature (35.0°C) recorded in Royston since 1972.
To help put the 1976 hot spell in context the following table shows the number of days each year since 1972 exceeding 30°C, and also the highest temperature attained each year with the respective date.
| | | | | | | |
| --- | --- | --- | --- | --- | --- | --- |
| Year | | No. of days with temperature 30°C or above | | Highest temperature (°C) in year | | Date |
| 1972 | | 0 | | 27.2 | | 18th July |
| 1973 | | 1 | | 31.1 | | 16th August |
| 1974 | | 0 | | 25.2 | | 15th August |
| 1975 | | 5 | | 32.6 | | 7th August |
| 1976 | | 18 | | 33.7 | | 26th June |
| 1977 | | 0 | | 27.0 | | 4th July |
| 1978 | | 0 | | 26.7 | | 31st May |
| 1979 | | 0 | | 28.2 | | 27th July |
| 1980 | | 0 | | 27.8 | | 4th June |
| 1981 | | 0 | | 27.7 | | 5th August |
| 1982 | | 0 | | 28.6 | | 9th July |
| 1983 | | 3 | | 31.5 | | 15th & 16th July |
| 1984 | | 0 | | 29.0 | | 28th July |
| 1985 | | 0 | | 27.5 | | 1st October |
| 1986 | | 0 | | 28.5 | | 27th & 28th June |
| 1987 | | 0 | | 28.5 | | 21st August |
| 1988 | | 0 | | 29.0 | | 7th August |
| 1989 | | 1 | | 31.9 | | 22nd July |
| 1990 | | 7 | | 35.0 | | 3rd August |
| 1991 | | 0 | | 29.0 | | 1st September |
| 1992 | | 0 | | 28.5 | | 29th June |
| 1993 | | 0 | | 27.0 | | 8th June |
| 1994 | | 2 | | 32.0 | | 12th July |
| 1995 | | 15 | | 33.3 | | 1st August |
| 1996 | | 4 | | 31.5 | | 22nd July |
| 1997 | | 6 | | 31.1 | | 8th August |
| 1998 | | 1 | | 30.5 | | 10th August |
| 1999 | | 2 | | 30.9 | | 2nd August |
| 2000 | | 1 | | 32.0 | | 19th June |
| 2001 | | 3 | | 30.9 | | 29th July; 15th August |
| 2002 | | 2 | | 30.8 | | 29th July |
| 2003 | | 7 | | 36.4 | | 10th August |
| 2004 | | 2 | | 30.7 | | 8th June |
| 2005 | | 4 | | 31.7 | | 19th June |
| 2006 | | 10 | | 35.2 | | 19th July |
| 2007 | | 0 | | 29.8 | | 5th August |
| 2008 | | 0 | | 29.1 | | 28th July |
| 2009 | | 0 | | 29.1 | | 1st July |
| 2010 | | 1 | | 31.3 | | 9th July |
| 2011 | | 1 | | 31.5 | | 27th June |
| 2012 | | 2 | | 31.4 | | 18th August |
It can be seen from the above table that the hottest day of the year does not always occur in one of the recognised Summer months of June, July or August (see 1978, 1985 and 1991)! Also the 1990s have shown a marked increase in the days exceeding 30°C after only 4 such days in the 13 years from 1977 to 1989 (evidence of global warming?)
Return to Welcome to Royston (Iceni) Weather Station header page
(This page last updated 1st October 2012 2032 GMT)